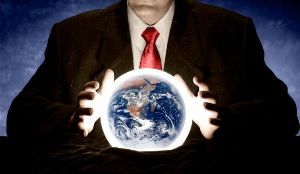 "For time and the world do not stand still. Change is the law of life. And those who look only to the past or the present are certain to miss the future." – John F. Kennedy
Was America's 35th president encouraging each of us to be a futurist? Some people dismiss that term as pretentious and stuffy, but as a small business owner, holding that attitude will hold you back. Because as the CEO, being the futurist of your company is your most important assignment.
To be a futurist, you don't need a fancy education, nor do you have to be a genius. Futurists aren't inspired by God, they're not clairvoyant, psychic, or have ESP. But they do look at the world differently than everyone else. Futurists see things others don't because they're looking for those things.
Perhaps it will help to introduce the product of a futurist, which is foresight. A futurist's job is to deliver foresight to an audience. As a small business futurist, your audience is made up of four groups that need to believe in your vision for the future of the enterprise: family, employees, customers, and bankers – in that order.