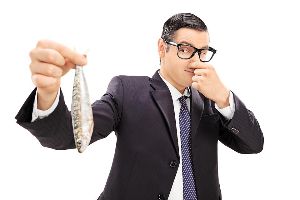 For centuries, one of the great pastimes of the English landed gentry was foxhunting. Part of that fun involved the occasional need to distract the hounds away from the scent they'd been following, which was accomplished by dragging a red herring – a real fish on a string – across the trail of the little furry guy.
Since this smelly practice was essentially lying to the hounds by leading them in a false direction, in time it produced a handy and enduring metaphor. Today, instead of being associated with horses, dogs, and stuffy English nobility in red coats, a "red herring" is more likely to represent someone attempting to divert attention from the real issue at hand in a conversation, debate, or negotiation. Magicians call it sleight-of-hand, and politicians call it politics. My grandmother would have called it lying.
Sorry, Grandma, but there are examples when introducing a red herring into a conversation doesn't have to be sinister. For example, in a negotiation, it can be a handy defensive tactic, and in sales, it can confirm how important an objection really is to a prospect.
But there are other conversations when we introduce a red herring without realizing it – the ones we have with ourselves. And in those cases, since we know both sides of the debate, the result is what Grandma said: we lie to ourselves. I call that the personal red herring. It's one thing to use red herrings as a communication tool, but when we use them on ourselves, it's unproductive at best and disastrous at worst.