Why are technological disruptions causing so much anxiety? In this compelling and prophetic book, Jim Blasingame innovatively asks and answers that profoundly critical question. Everyone in business should read The 3rd Ingredient. Well done, Jim.
-Steve Forbes
Editor-in-Chief, Forbes Media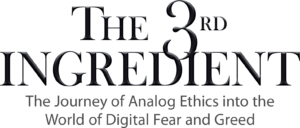 In his new book, business expert, author and futurist, Jim Blasingame, reveals the source of our anxiety about technology: An unprecedented ethical paradigm shift
As contemporary humans, we must remember one immutable fact: You and I are, have always been, and always will be, analog. From Euclid to Edison to Eddie, your brother-in-law, we're all physical, analog beings. And having lived in and perpetuated an analog world for 10,000 years, for good or for ill, humans have therefore always exhibited analog behavior.
But there is something very new in our world. In fact, it's the underlying thread of The 3rd Ingredient. We've taken the aggregation of information, knowledge, accomplishments and, for the first time in history, created something quite unique. A truly new innovation with its own energy: digital technology producing digital leverage.
Blasingame focuses on the impact of digital leverage on what he calls "analog ethics." Perhaps like no one else to date, Blasingame explains why the ethics we developed during the 10,000 years of the Analog Age can't move fast enough against the forces of digital leverage. In fact, he says we must create digital ethics that are preemptive.
One of Blasingame's primary conclusions is that our greatest danger is not from AI or a robot, but from ourselves. That as we democratize digital leverage, we also have to become devoted to digital ethics that can be applied simultaneous with the pressing of an "Enter" key.
That's the purpose of The 3rd Ingredient – to foster the conversation about how to accomplish this transition. Because just as no machine ever created itself, and no lever ever kick-started itself, no ethical principle ever materialized out of the mist. Only humans create leverage and only humans create ethics.
What Others Are Saying About the Third Ingredient:
We've entered a new reality where digital leverage, like artificial intelligence, is changing our world. In The 3rd Ingredient, Jim Blasingame reveals why fear and greed are easily adjusting to this speed-of-light change, while dangerously leaving our analog ethics behind. How we fix this imbalance is an existential question Jim's book asks and answers.
-John Sculley
Former CEO at Pepsi and Apple
The 3rd Ingredient is about the topic that's on everyone's mind: How technology is changing us. Jim Blasingame reveals why we may have more to fear from the "Enter" key under our fingertip than a robot. And he makes us think about the future of Trust in the Digital Age.
-Ivan Misner
Founder of BNI and NY Times Bestselling Author
I'm a raving fan of Jim Blasingame. Every time I interact with him, he pushes me and makes me think. Jim's new book, The 3rd Ingredient, will do the same for you. Dive into the book, and be ready to have your thinking challenged. You'll never feel the same about the digital world we live in today. You're the best, Jim!
-Ken Blanchard
Coauthor of The New One Minutes Manager®
Coeditor of Servant Leadership in Action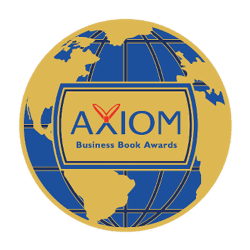 The 3rd Ingredient
has won a
Gold Medal
from the
Axiom Business Book Awards
for Business Ethics. This is an international competition involving hundreds of books.
Judges' comments about this book include:
"With The 3rd Ingredient, Jim Blasingame has done it: Created something totally different that actually works! His intellectual and linguistic abilities make him the O. Henry of business books!"
– Jim Barnes, Axiom Awards Director
"At once entertaining and chilling in its warning about what we face in the future."
"Amazing storytelling; so much wisdom here."
"It blew us away."
– Axiom Awards judges
---
Images to Share on Social Media
Share Graphics (Click icon to post on social media)
To Download (Right Click on Image and Save Image to Computer)