This is the ninth edition of my New Regular series, dedicated to helping small businesses cope with the one-two punch of the coronavirus pandemic and associated economic constraints. Normal was just sighted in a homeless shelter in the north of France.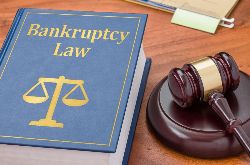 The subject today is a serious and troublesome one. No amount of lipstick will make the bankruptcy pig pretty. But as we roll into the post-pandemic era, we should improve our understanding of it.
You can be technically bankrupt without being legally bankrupt. At some time in their existence, most businesses will experience an upside-down state of negative net worth, where liabilities exceed assets. It's likely that such a condition will pass unnoticed, possibly even by the owner, because the business might not be insolvent.
Insolvency is a pre-bankruptcy state of financial distress when near-term payment obligations exceed cash-generating ability. This condition is not only noticed, it's consuming. If you dig yourself out of insolvency and avoid bankruptcy, that becomes a badge of honor. Yes, your humble correspondent knows something about that.