This is the sixth edition of my "New Regular" series. No one's seen hide nor hair of normal – old or new – since March 15.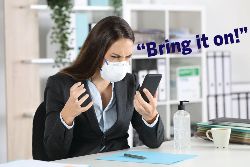 Today we start with two quotes. The first is from a certified genius, and the second … not so much.
"Compound interest."
Reputedly, that was Albert Einstein's answer to the question, "What's the most powerful force in the universe?"
And now a maxim coined by your humble correspondent, from years of experience operating a small business.
"When it starts going bad, it all goes bad." This is not hyperbole or meant to be pessimistic, just sobering.
"The Compounding Effect" is my term for that maxim, and it, too, can be powerful. Except, unlike compound interest, not in a good way.