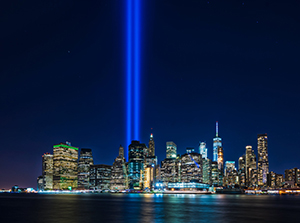 Concluding my live broadcast at exactly 8:58:50am EDT that Tuesday morning of September 11, 2001, was no different from the previous 198 Tuesdays since I started The Small Business Advocate Show in 1997. With the unremitting ticking of the clock, every weekday at the same moment, I transitioned from my on-air world to my off-air life. A talk show is an imprecise activity conducted in a precise environment.
Having conducted half-hour interviews with four different small business experts, as if it were just another day, we discussed marketing, communication skills, a survey about computer usage, and salesmanship. Tax rebates were hitting mailboxes, as the economy continued to be the big news.
There were errands to run, so by 9:02am, I was turning the key in the ignition of my Crown Victoria. Our world is filled with familiar sounds from which we receive information and sometimes comfort: in one second the sound of the engine told me it was okay to engage the transmission, and in the next, the voice of the radio announcer gave me subliminal comfort that the outside world was still there and reporting in.
But with the next tick of the clock, the content of the news registered, and I learned that as I was wrapping up my last interview at approximately, 8:45am EDT, a plane had crashed into one of the Twin Towers of the World Trade Center in New York City. Without moving a tire I turned off the engine and went back inside to turn on the news.
Barely five minutes after the hour, horrific images came into focus [Continue Reading]