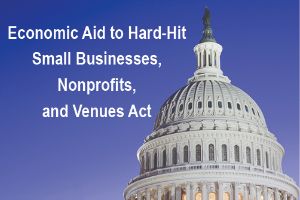 This is the 23rd edition of my New Regular series, which didn't begin as a series because no one on the planet imagined Main Street would still be getting hammered by two very dangerous forces: a deadly virus and state/local politicians. So, welcome to 2021 when, apparently, Normal has checked-out for another year.
Since last February, your humble correspondent has been reporting on what I've named the "Three U's of the Apocalypse": an Unprecedented coronavirus pandemic, precipitating an Unprecedented economic shutdown, necessitating Unprecedented direct government assistance. Now, in my fourth report in this series to focus on that last "U," let's bring you up to date on the "Economic Aid to Hard-Hit Small Businesses, Nonprofits, and Venues Act'', or PPP2, for short – which is at least five months late.
This is essentially the availability of another round of Paycheck Protection Program (PPP) funds, with new money and new rules that update the original CARES Act of March 27, 2020. The new law also delivers some excellent new provisions that you're going to like.
Here's the essence of this new PPP cupcake with new sprinkles.