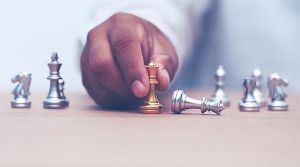 Almost a half-century ago, a list of rules really caught on. Without the benefit of the Internet, email, or social media, but with no less an endorsement than syndicated newspaper oracle, Ann Landers, "Ten Rules For Being Human" quickly circulated around the globe.
Initially, the author's name didn't make the trip, resulting in attribution to "Anonymous." It remained that way even when Jack Canfield and Mark Victor Hansen included The Rules in their original Chicken Soup For The Soul book in 1993. Still attributing it to "Anonymous," they somehow didn't know that the wisdom of The Rules came from their long-time friend, Dr. Chérie Carter-Scott.
Chérie has been my friend since she first told that story to my radio audience over two decades ago, as she launched her first book based on The Rules, If Life is a Game, These are the Rules. Using Chérie's numbering, here are five of the ten Rules that are handy for small business owners any time, but especially so just now. And, of course, each rule is followed by my thoughts.