This is the 17th edition of my New Regular series, devoted to helping your small business successfully navigate the uncharted, post-pandemic economy. When normal tried to pass as "new" on Twitter, the cancel culture came apart and the account was immediately suspended.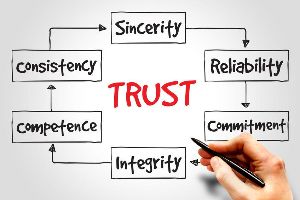 Protomarket was born 10,000 years ago when Og and Gog dropped their clubs and said, "Let's stop fighting and do business." At that same moment, something else was born that became the second most powerful human force: Trust. Only a mother's love is more awesome. Everybody knows that.
Fast-forward to 2020 and trust is still the abiding nexus of every human interaction. Arky Ciancutti, M.D., my friend and co-author of "Built On Trust," says, "We are a society in search of trust."
In life, the expectation of trust is non-negotiable. Humans may be illogical about love, but we're not confused about trust – we require it.