This is the 11th edition of my New Regular series, which is committed to helping Main Street businesses make the tenuous transition to a post-pandemic economy. Normal hasn't been seen since corona was just a beer.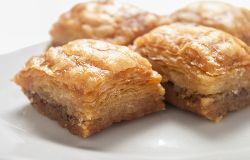 Do you like baklava – that pastry so luscious it's served in little pieces? Who doesn't? But what does baklava have to do with operating a business in a pandemic-induced panic? Well, as scrumptious as it is, the connection isn't about how it tastes, but rather, how it's made.
Cutting a baklava square in half reveals that it's constructed of multiple layers of buttery, cinnamony, honey-drenched, walnut-laden sheets of phyllo dough baked into an elegant and rich eating experience.
Slicing into the marketplace you'll see it looking increasingly like baklava: multiple layers of innovation-drenched effort baked into elegant choices and rich experiences. But zoom in closer. Just as each wafer-thin sheet of baked baklava breaks into more layers of cookie-inside-a-cookie, the marketplace stratifies into finer layers of even greater variations, nuances, and elegance.
Those finer layers are called niches. (My snooty friends say "neesh," I prefer "nitch." Tomato, to-mah-to). A niche is defined as being "perfectly suited for the person or thing in it." And if there were ever two things perfectly suited for each other, it's the niche and small business. It's a beautiful thing to watch an entrepreneur discover a new niche and fill it, and later identify and fill a niche of that niche.